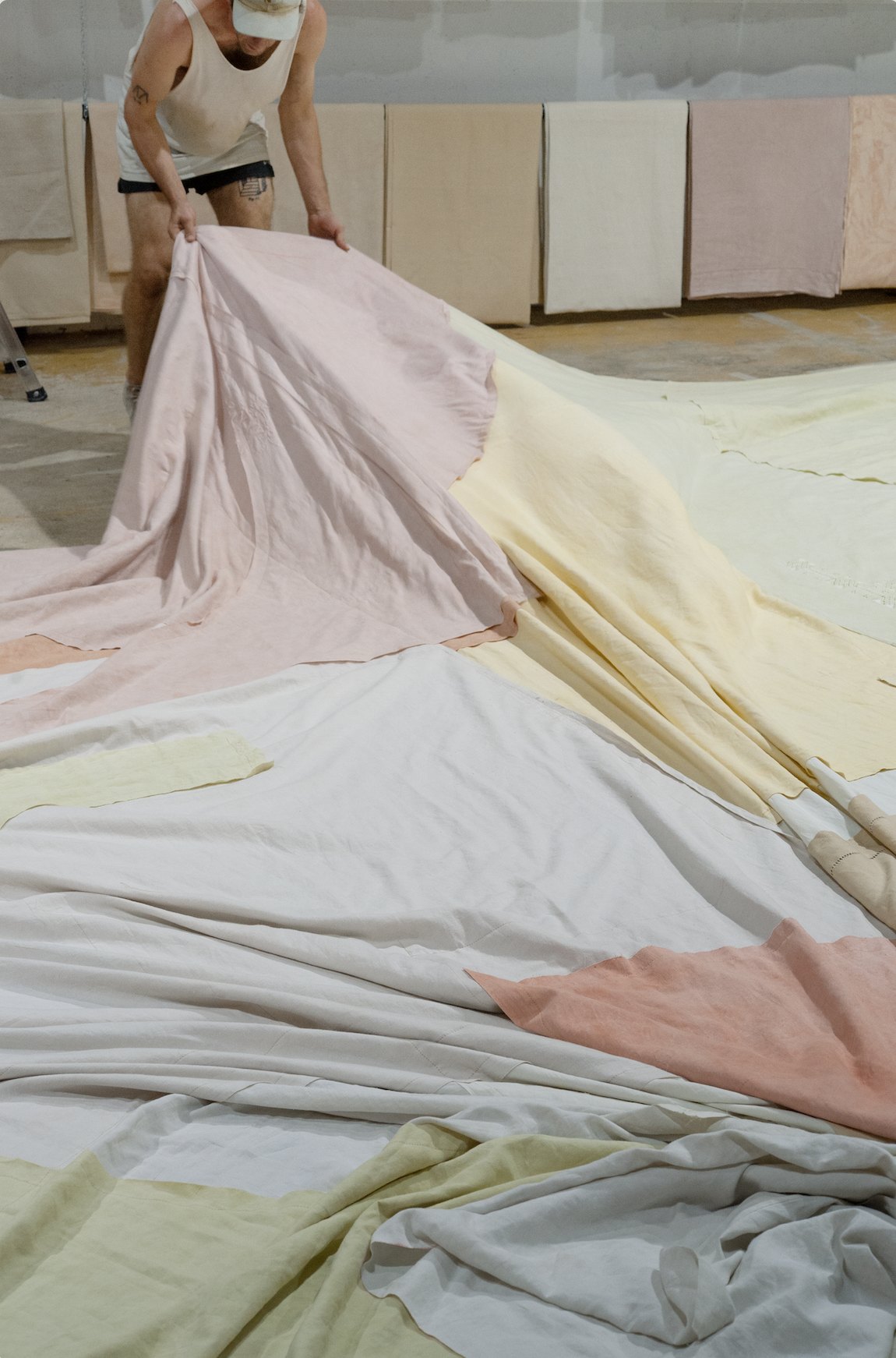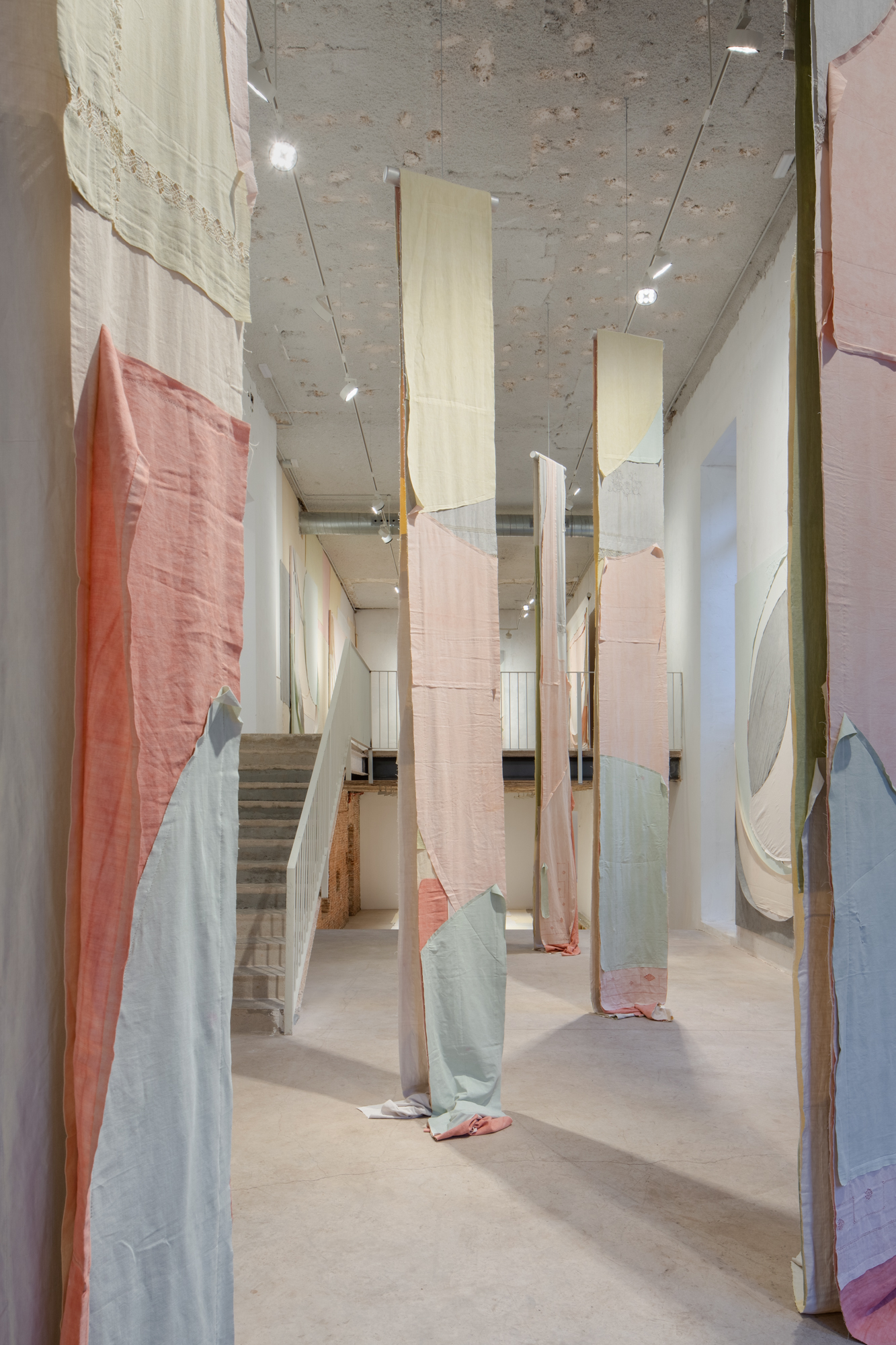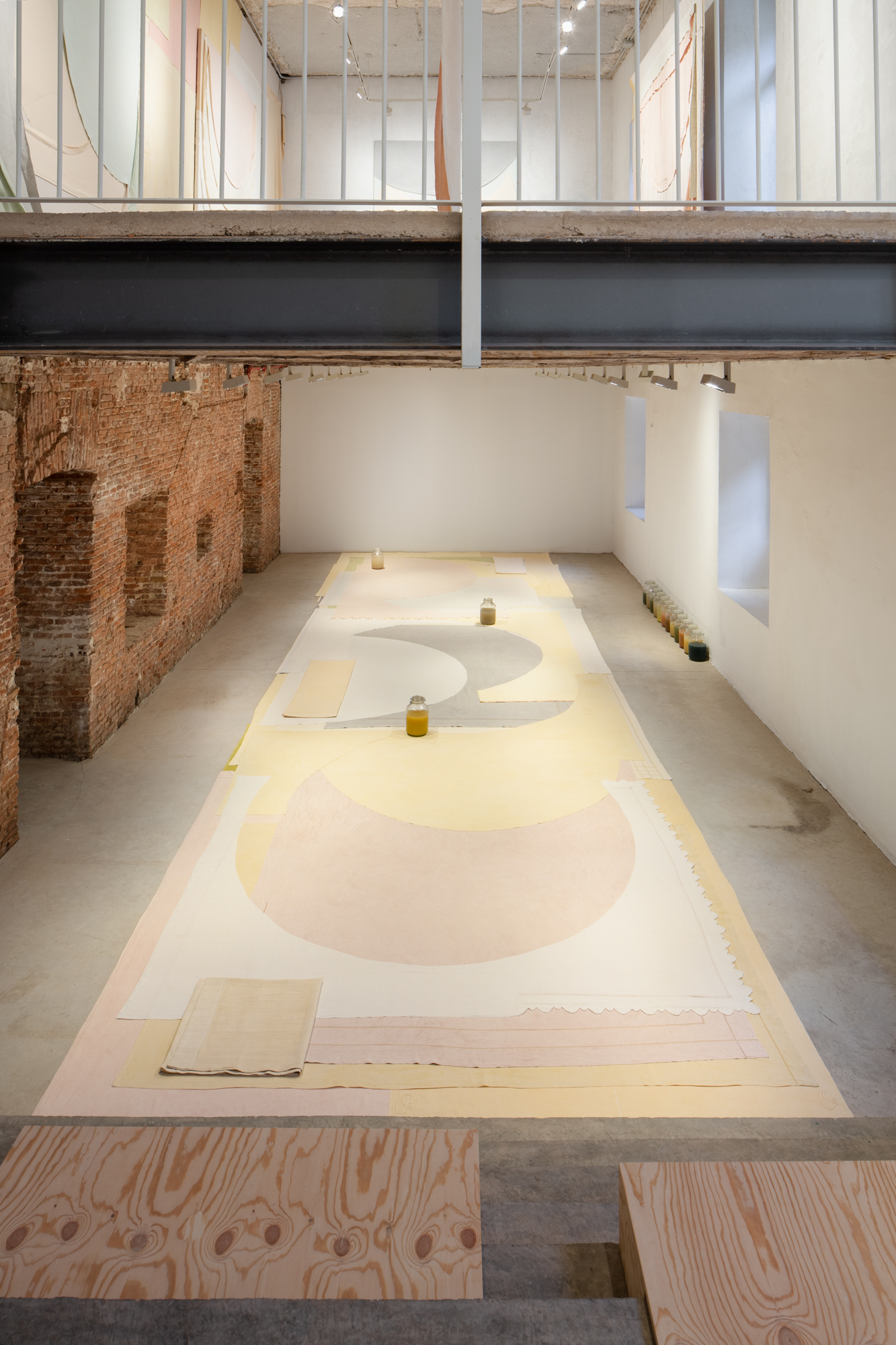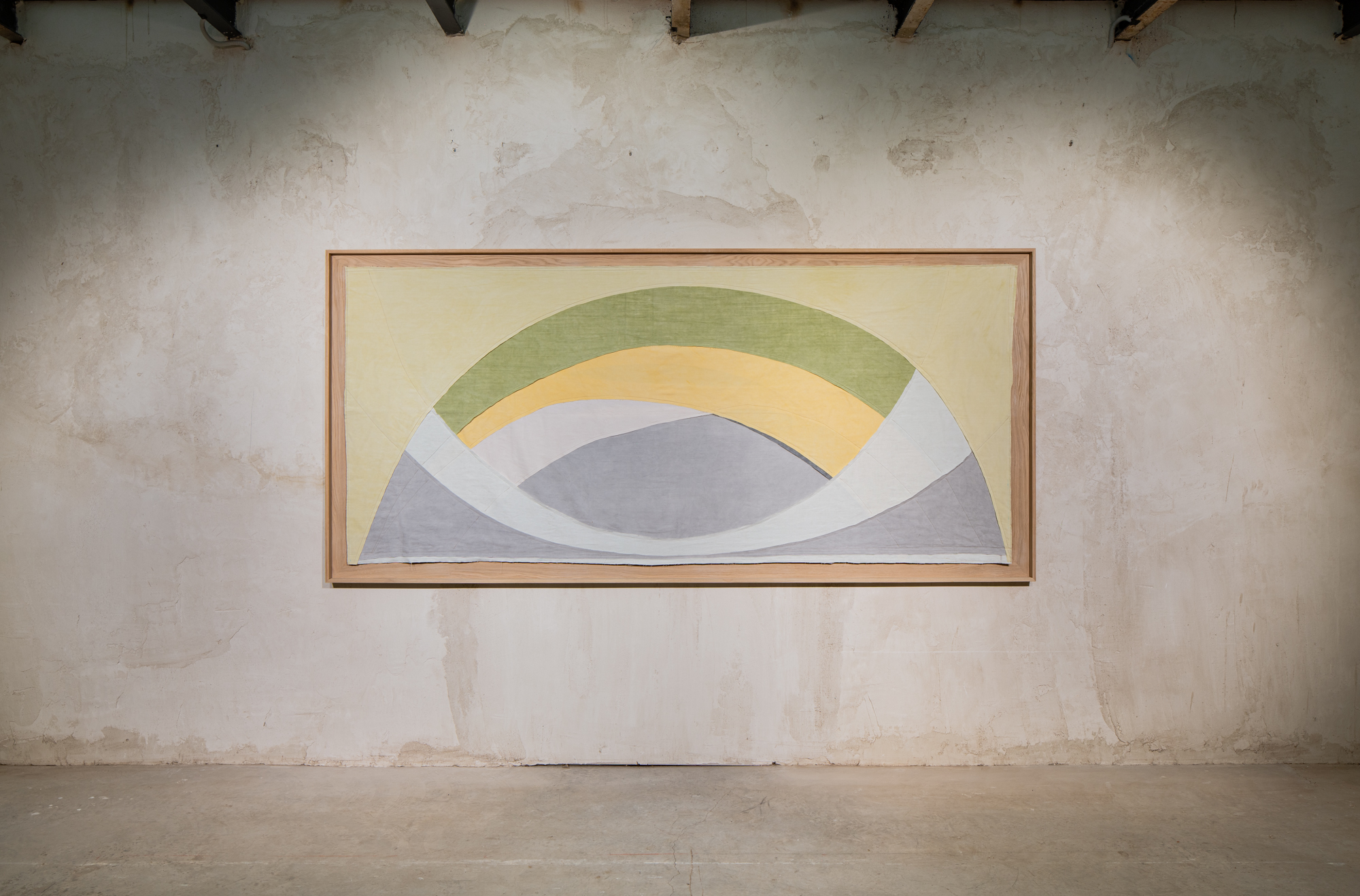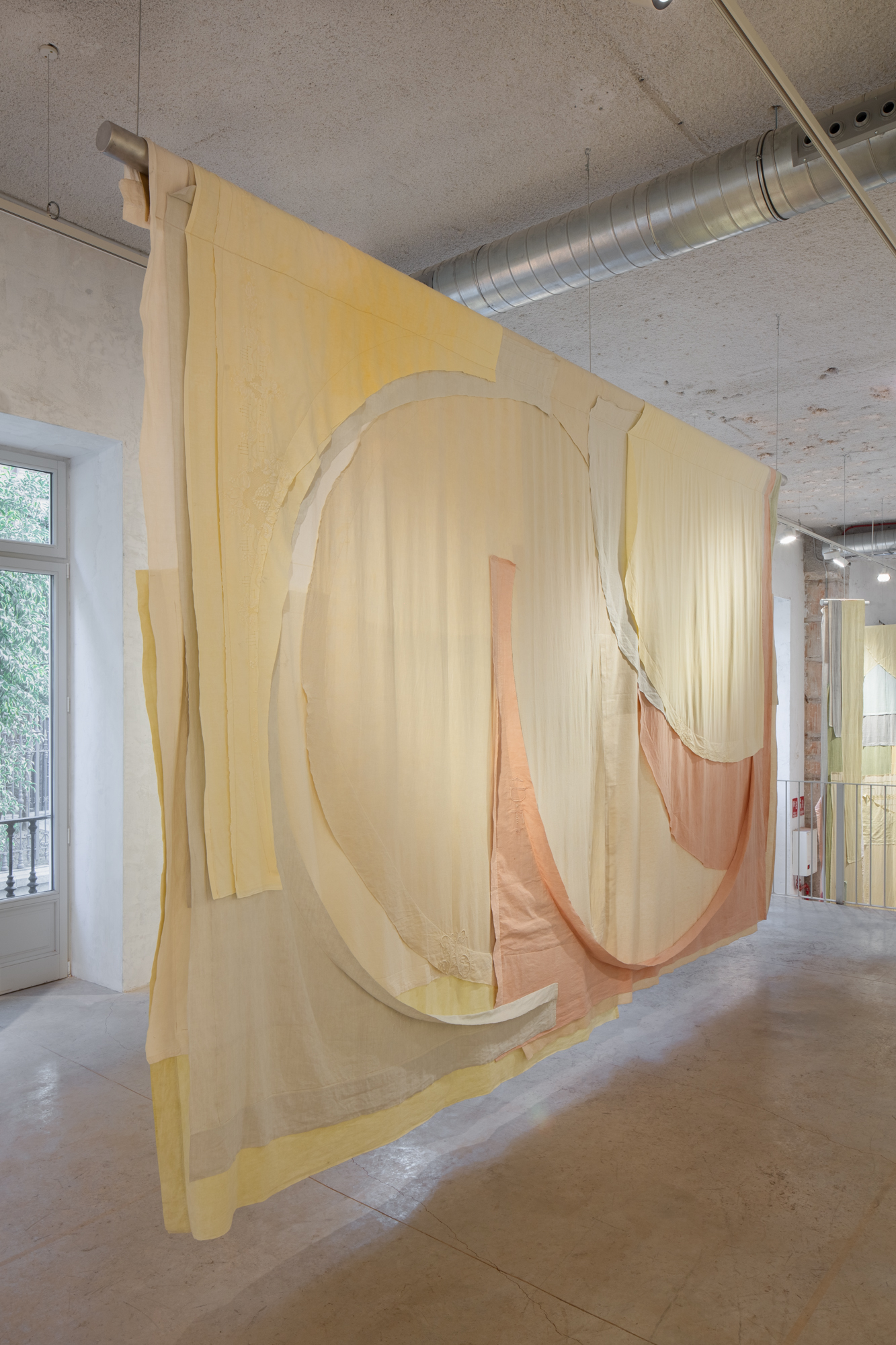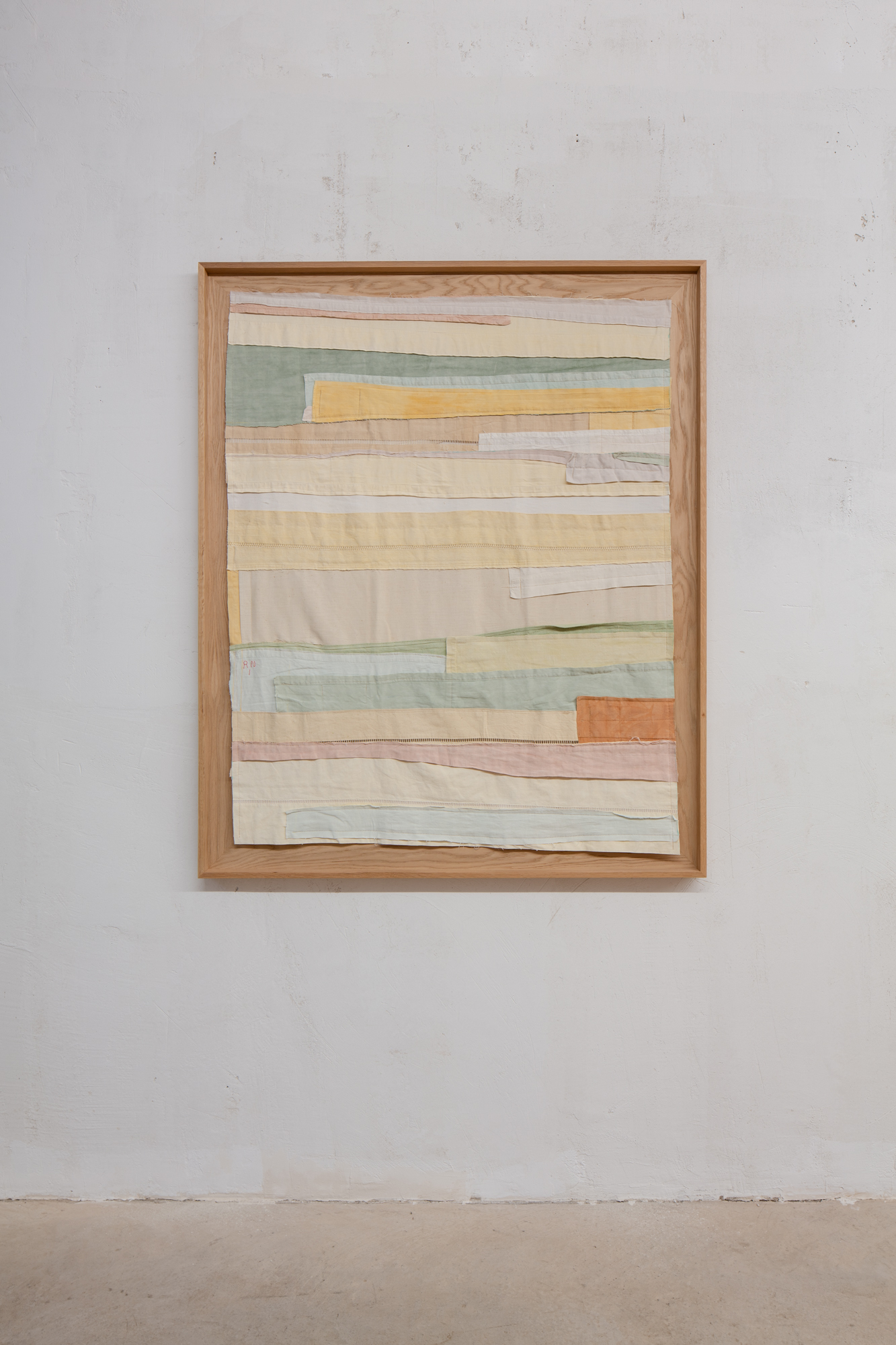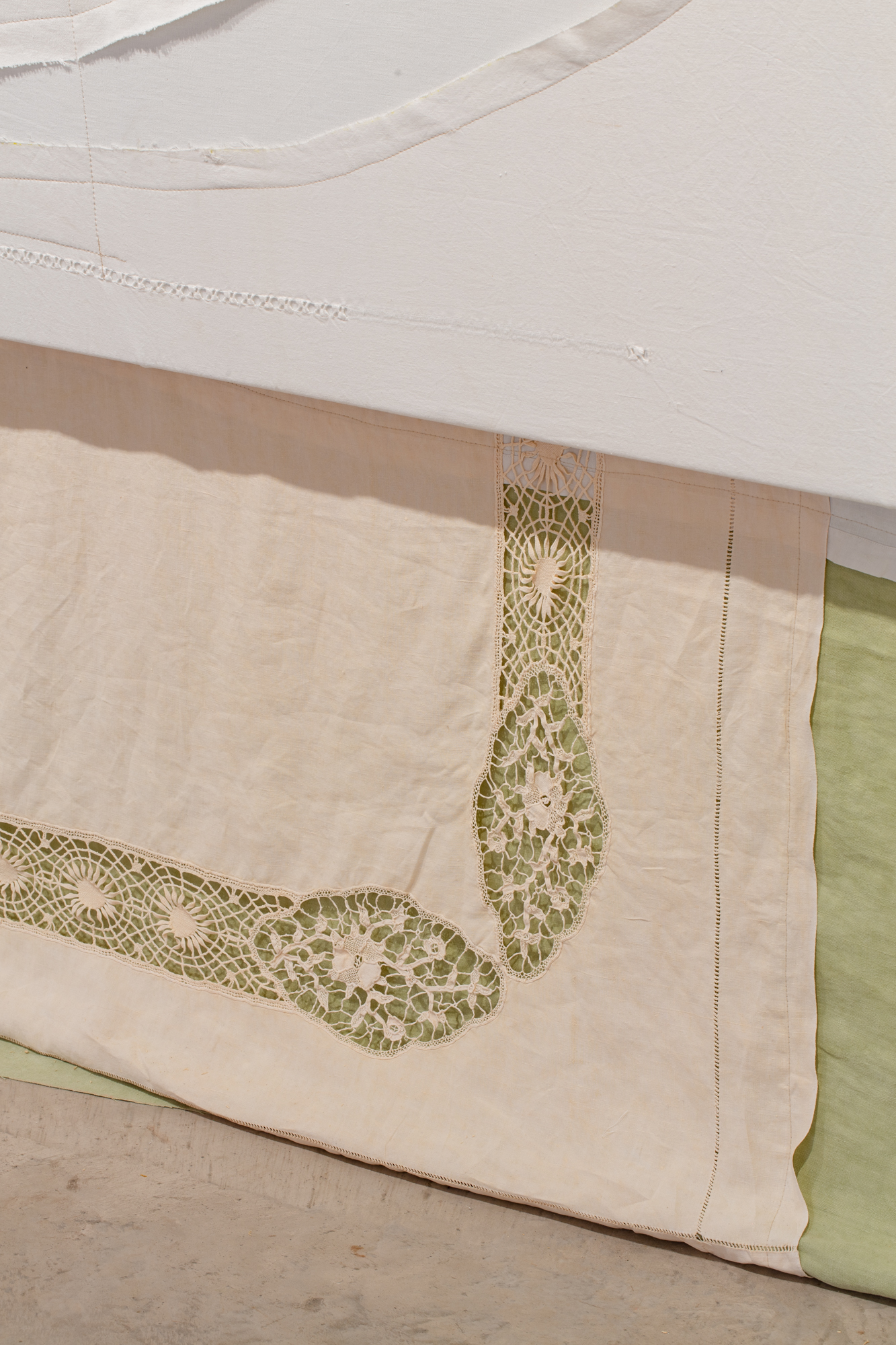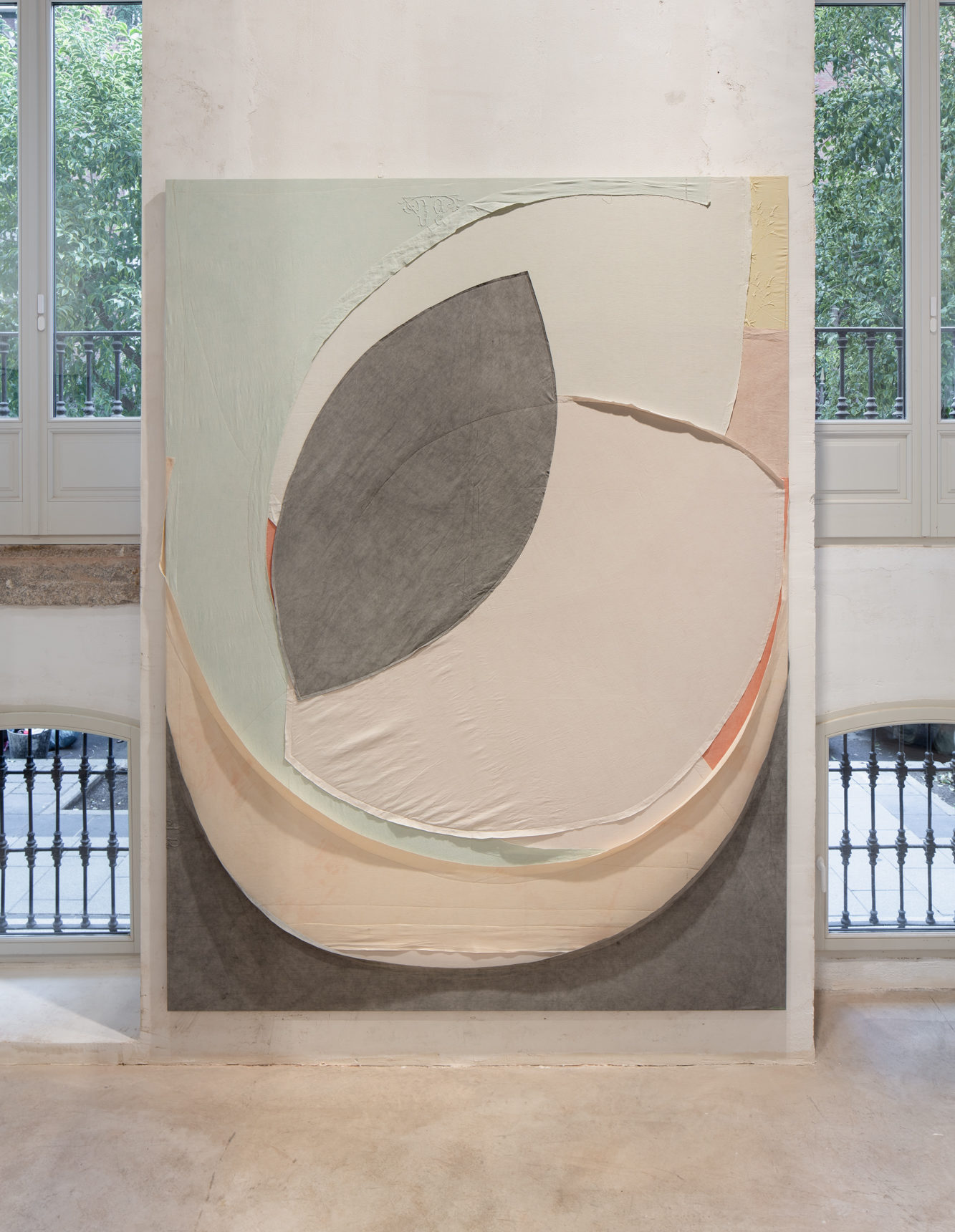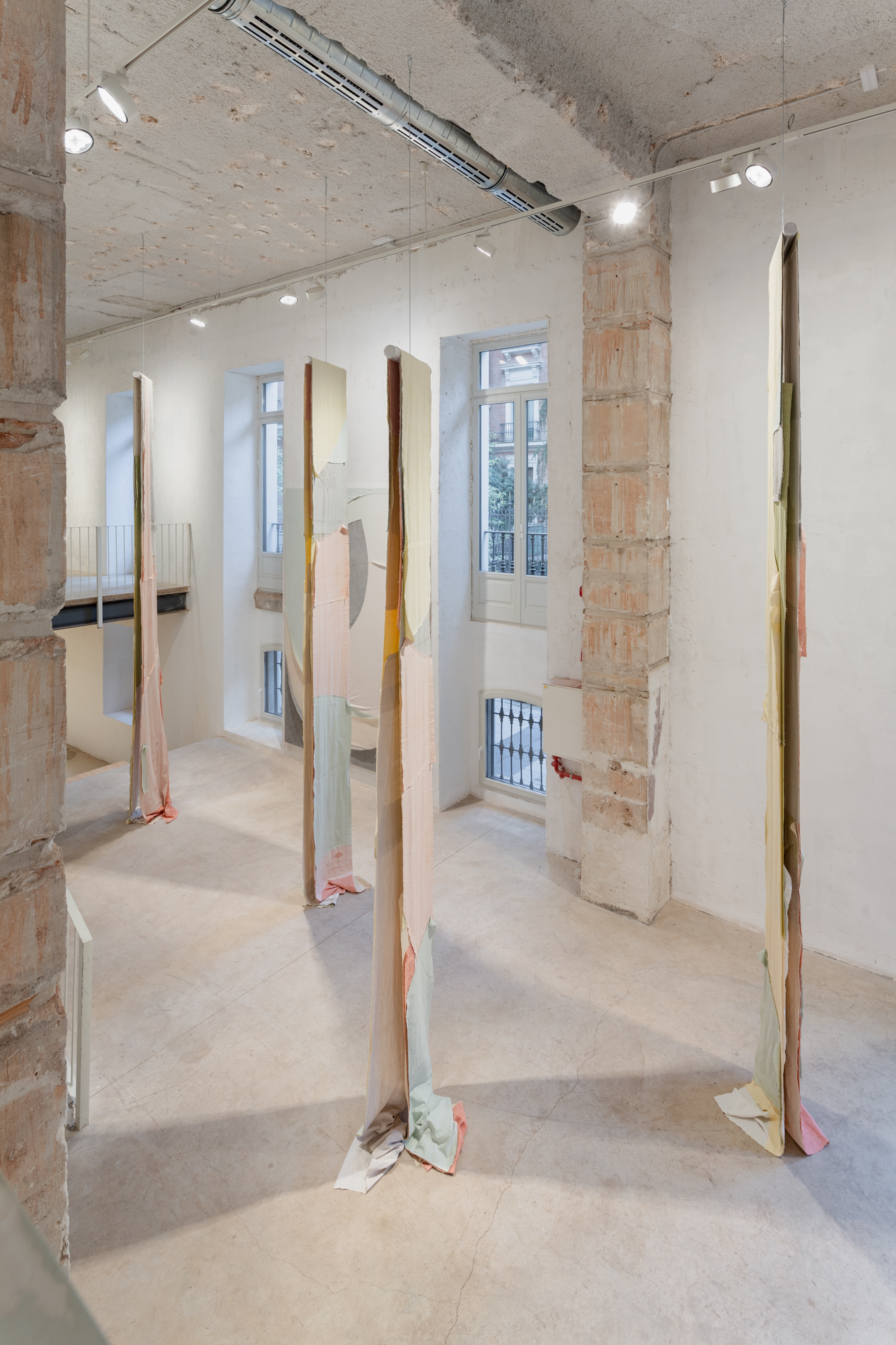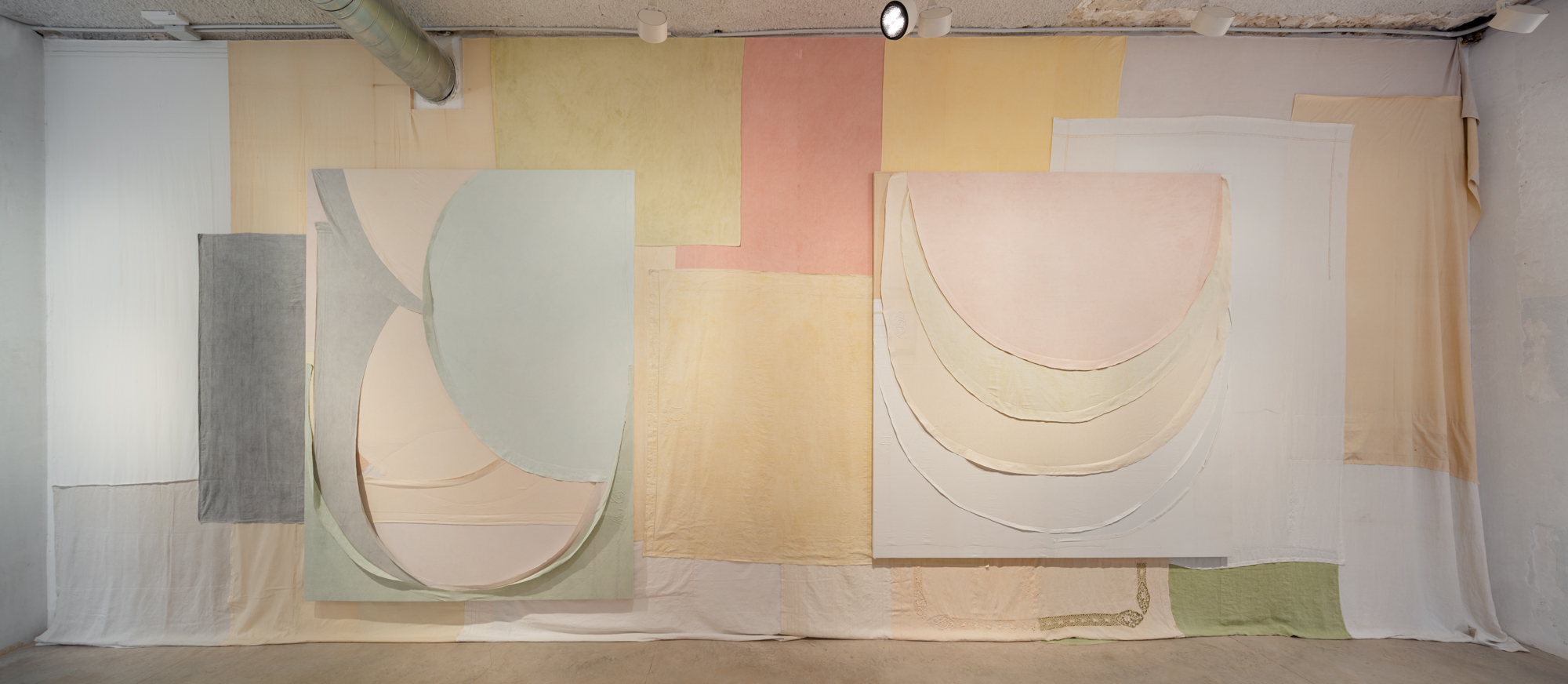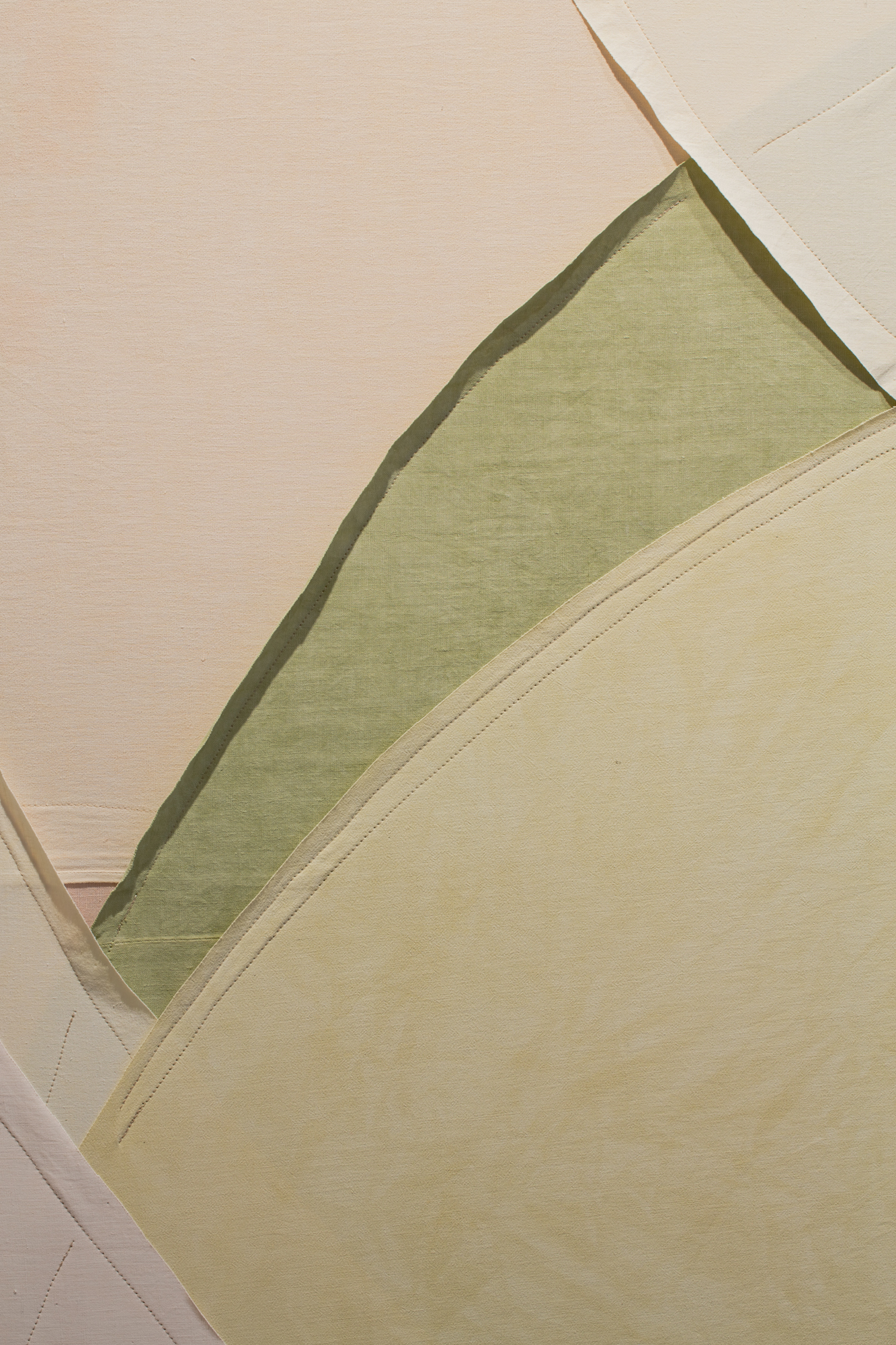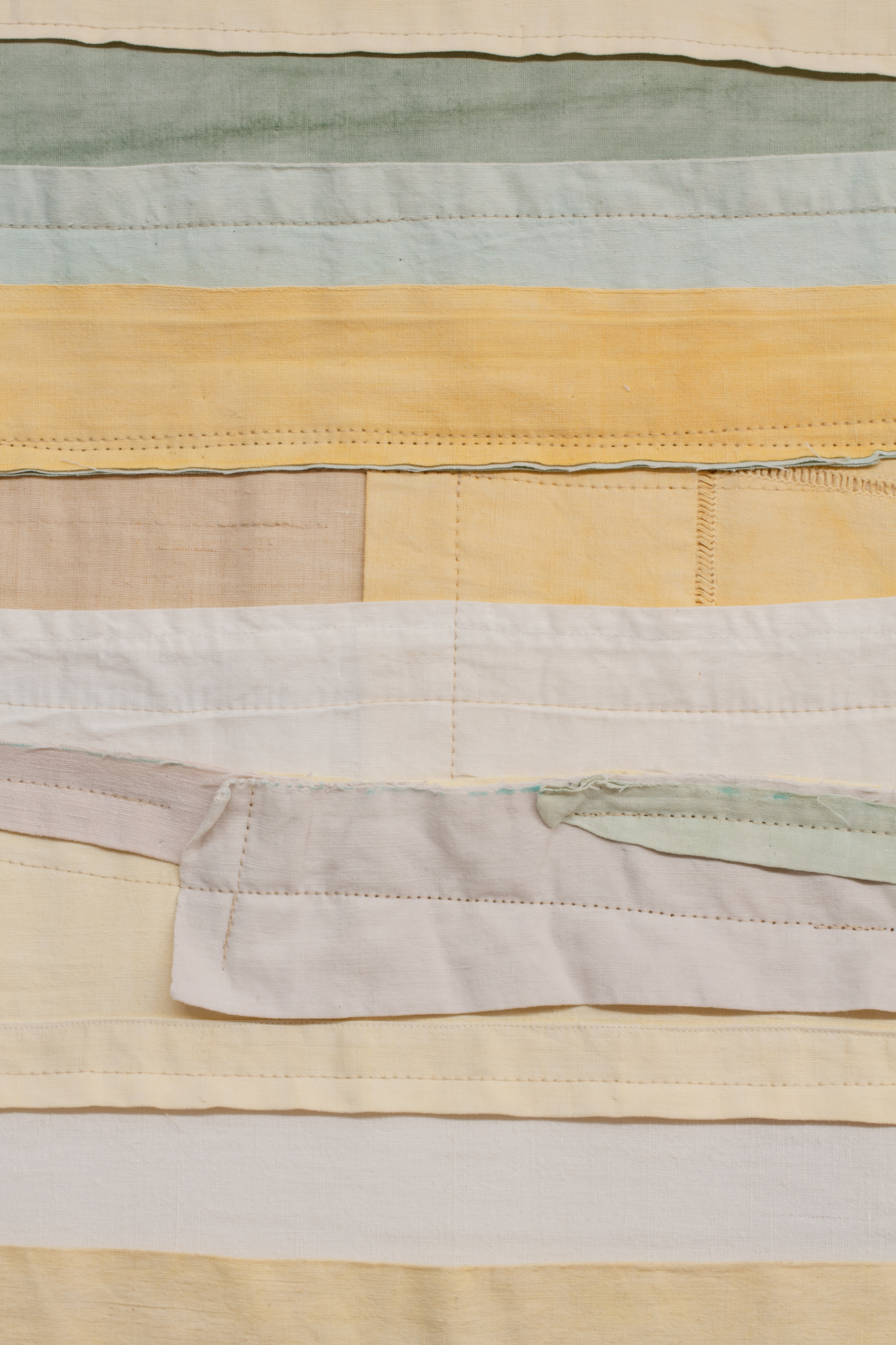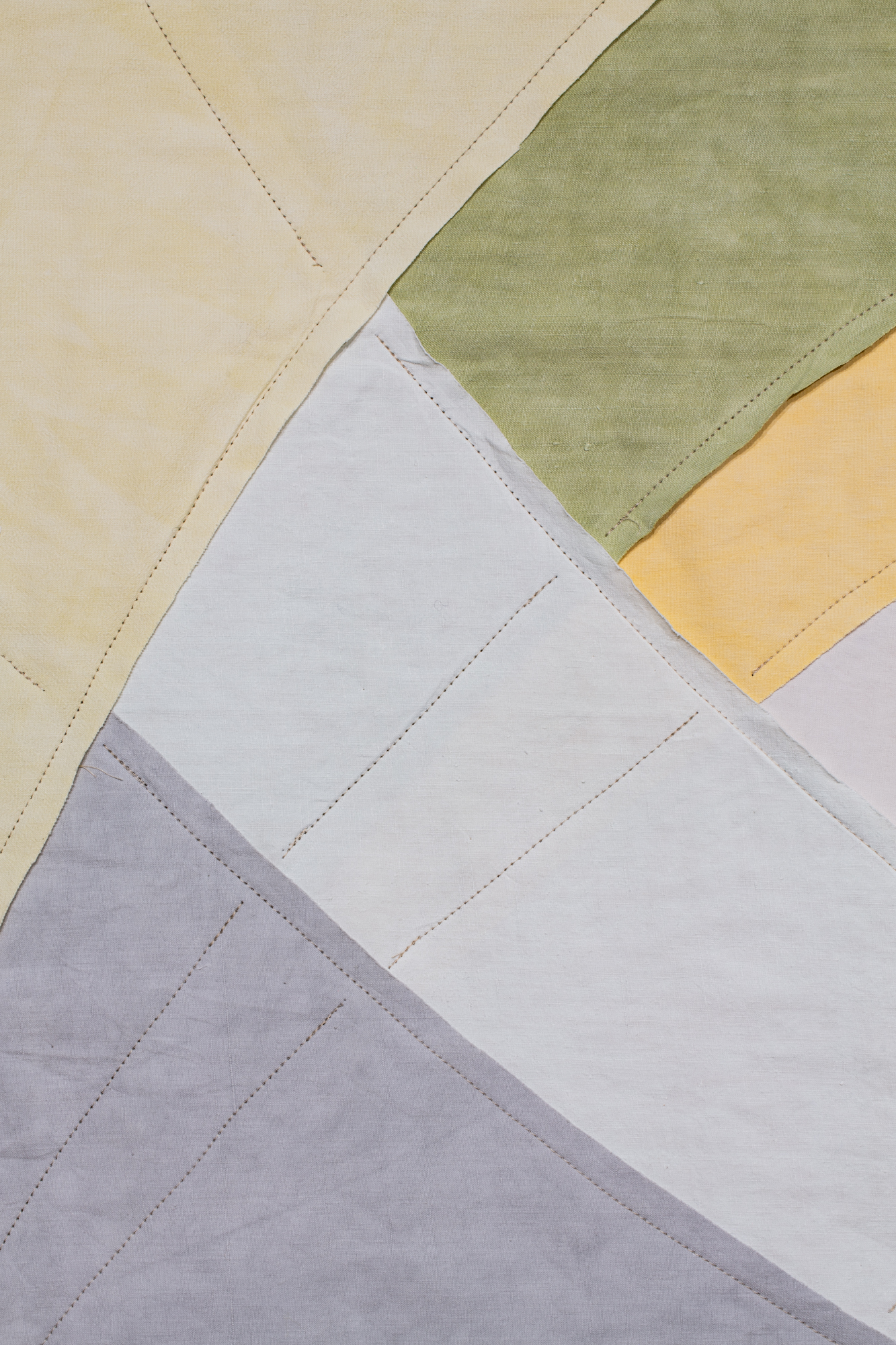 17.12.2022 – 09.02.2023
For his first individual exhibition in the Albarrán Bourdais gallery, Adrien presents a large collection of works, specifically created for this occasion. The artist decided to triple the thickness of his artworks for this exhibition and to elaborate a new color palette, taken from the alchemistic notebooks which he has been developing and working on since 2019/2020. Through the narration of abstract shapes, recognizable color palettes and spectacular formats, hundreds of pages have seen the light of day.
At the core of this exhibition "Adeshora", a total of twelve pages and six bookmarks are presented: pages stretched on a frame stuck to the walls, or free and suspended, sometimes vertically and sometimes horizontally.
Twelve fabrics per day, immersed two times in six colored baths of natural ochres during more than two hours; that is to say six pots containing the secret recipes of the artist. Workdays in the studio from 7am to 5pm is too little for the artist but good enough for a concerned and active father. All these numbers are a good indicator to understand Adrien's obsession with time and its loss, to capture this alienation essential to the process of organizing his own moments to think, draw, stain, cut, sew, hang but also to understand, but also to forget. Adrien forgets a lot.
Adrien draws moons to infinity to capture their curves and then stitches them together. The moon has always been an instrument for measuring time. Lunar calendar, sundial, and what if the sun did not rise anymore? A topic which during these last times questions the artist in his studio where the natural light of Marseille penetrates only very little and from where comes the term: "to make pass" the colors. In other words, and in a more technical way, it is a question for Adrien of wanting to reproduce the tint of a raw fabric by coloring it with rather pastel tones. This desire of the artist to work his textiles down to the fiber, to feel them and the importance of making the original color reappear with some barely perceptible deviations but with uncompromising methods of treatment, is a labor that the artist strives to put in place.
To imagine old walls where the different layers of paint are peeling off. The idea of a house where the walls reveal themselves in undercoats and where the colors of mastic and beige follow one another. Like successive skins or envelopes. A house in which one feels good and where one finds all the reasons to stay and to want to build a nest. It is in this sensitive approach that Adrien's paintings welcome us. They send us back to our bodies, our senses, our attachments and in a soft and subtle way give us back the vital need of the fragility of our rhythms in our lives. A tangible narration of time, of what is conveyed in us, and that Adrien strives to write page after page.
– Marie De Gaulejac