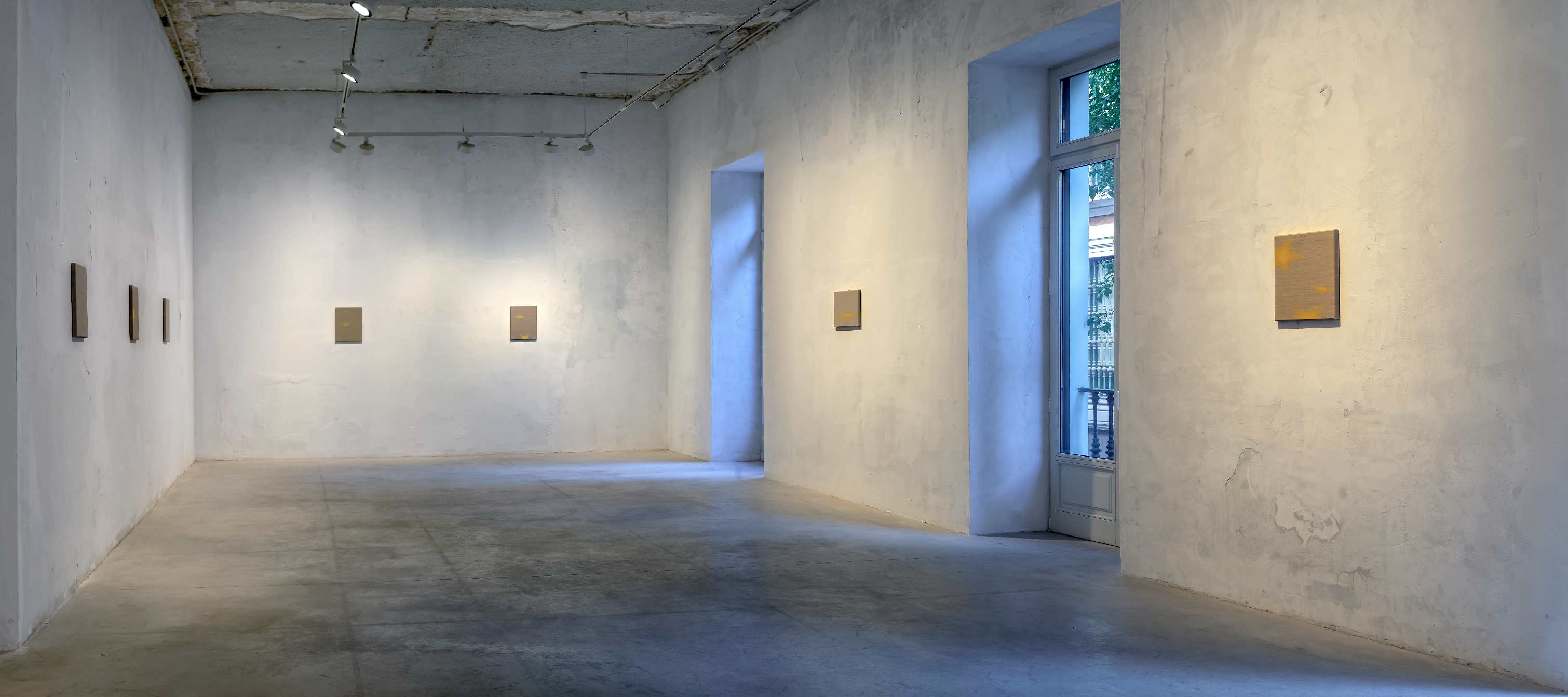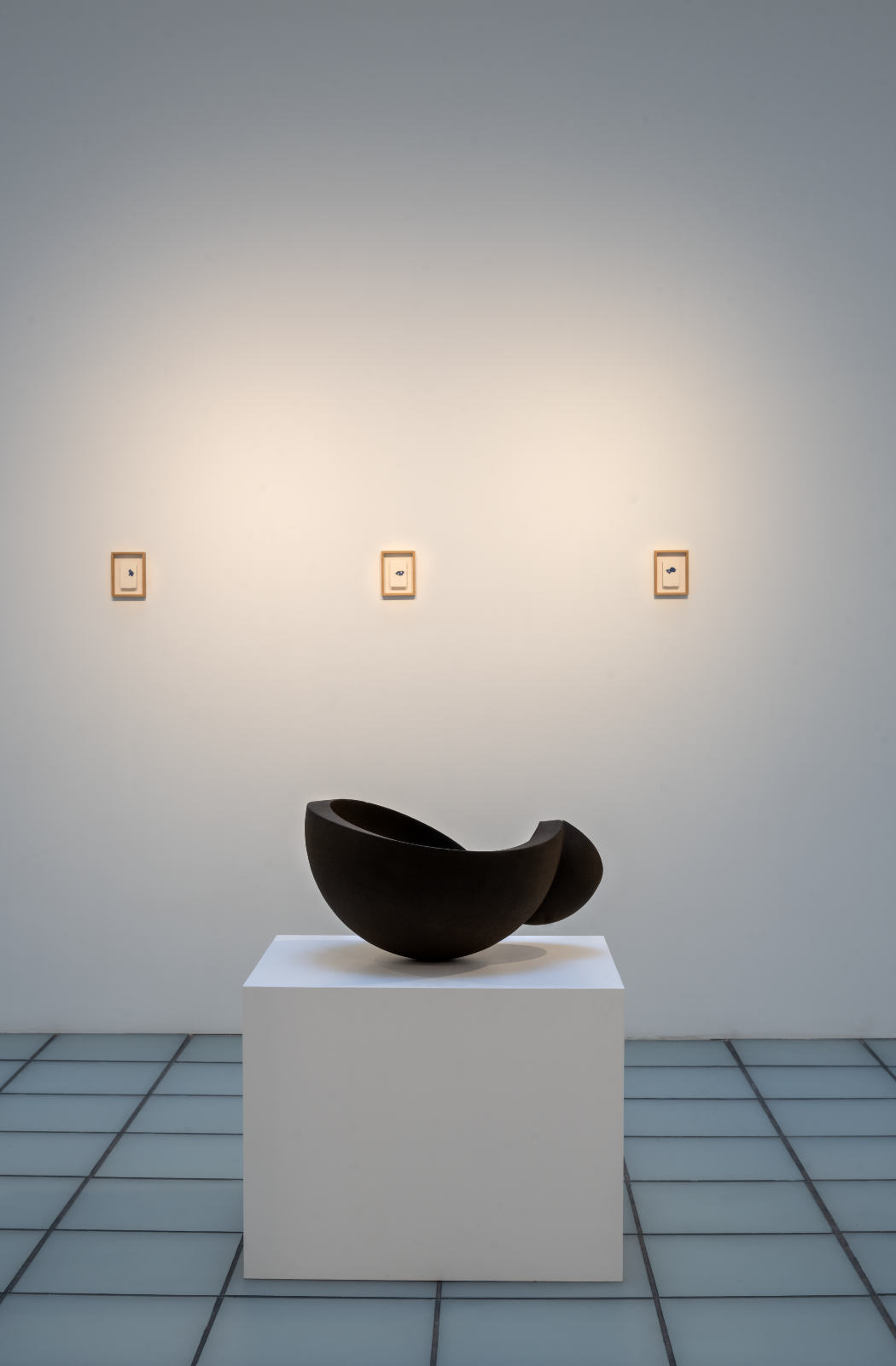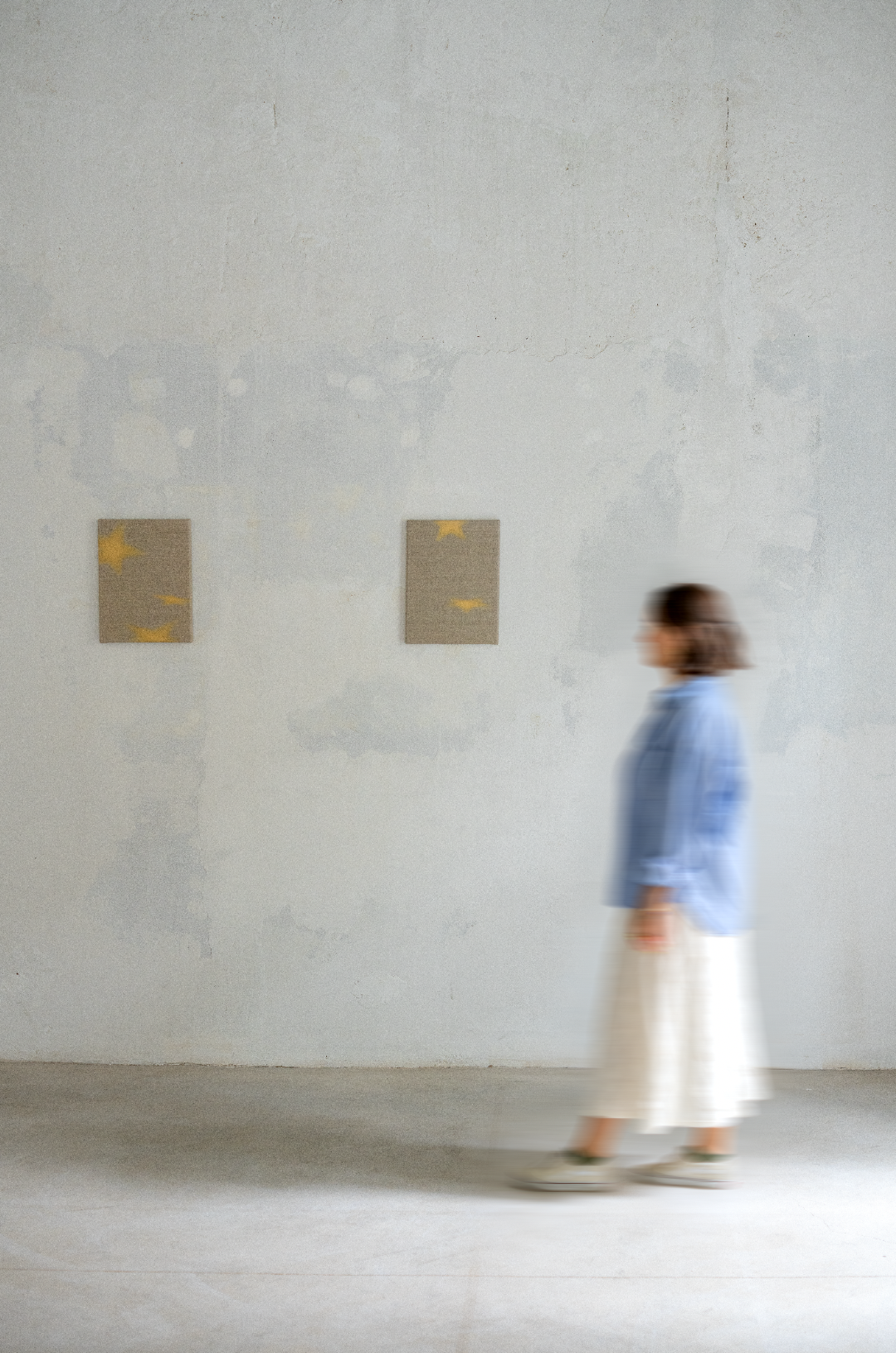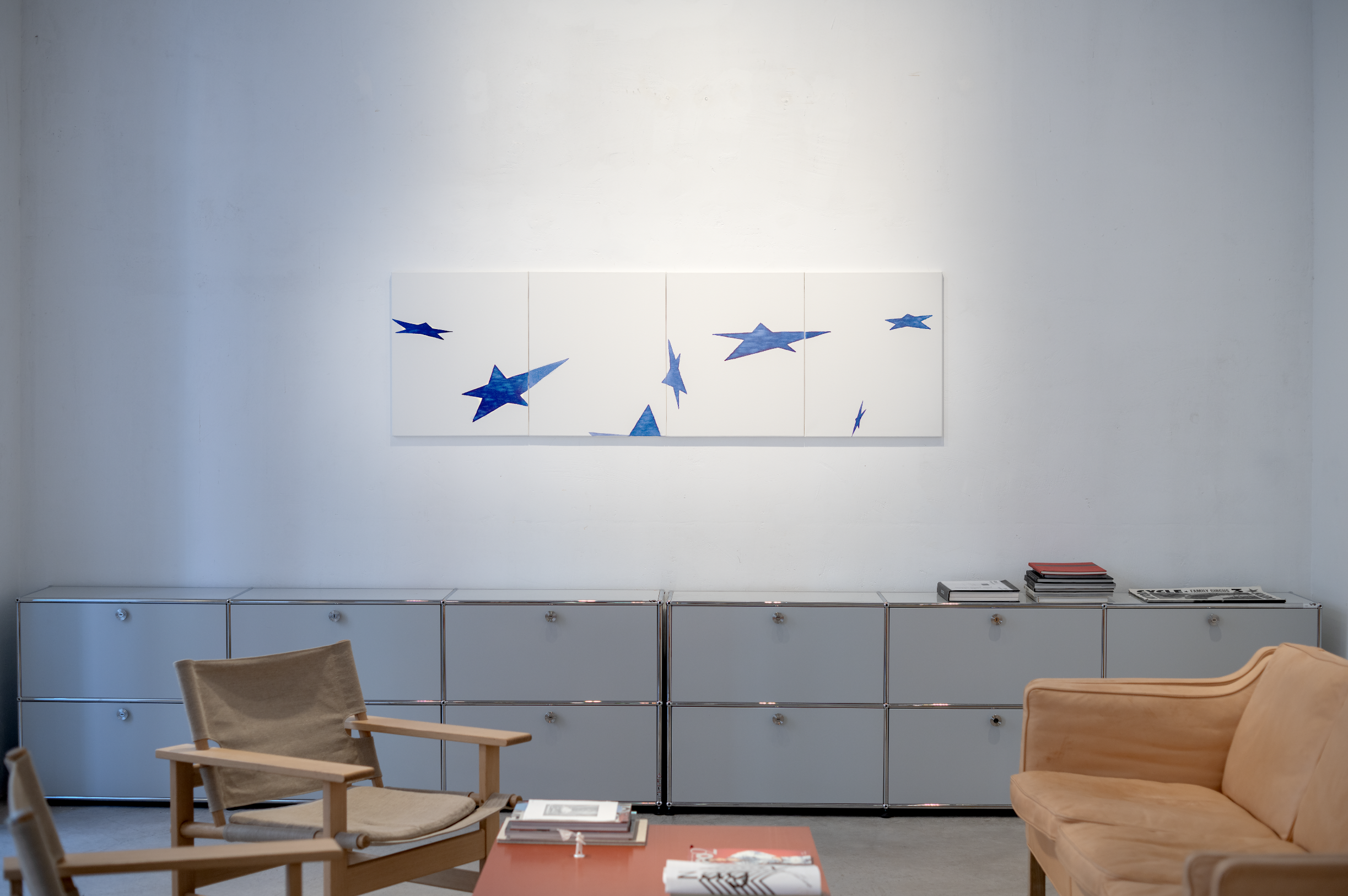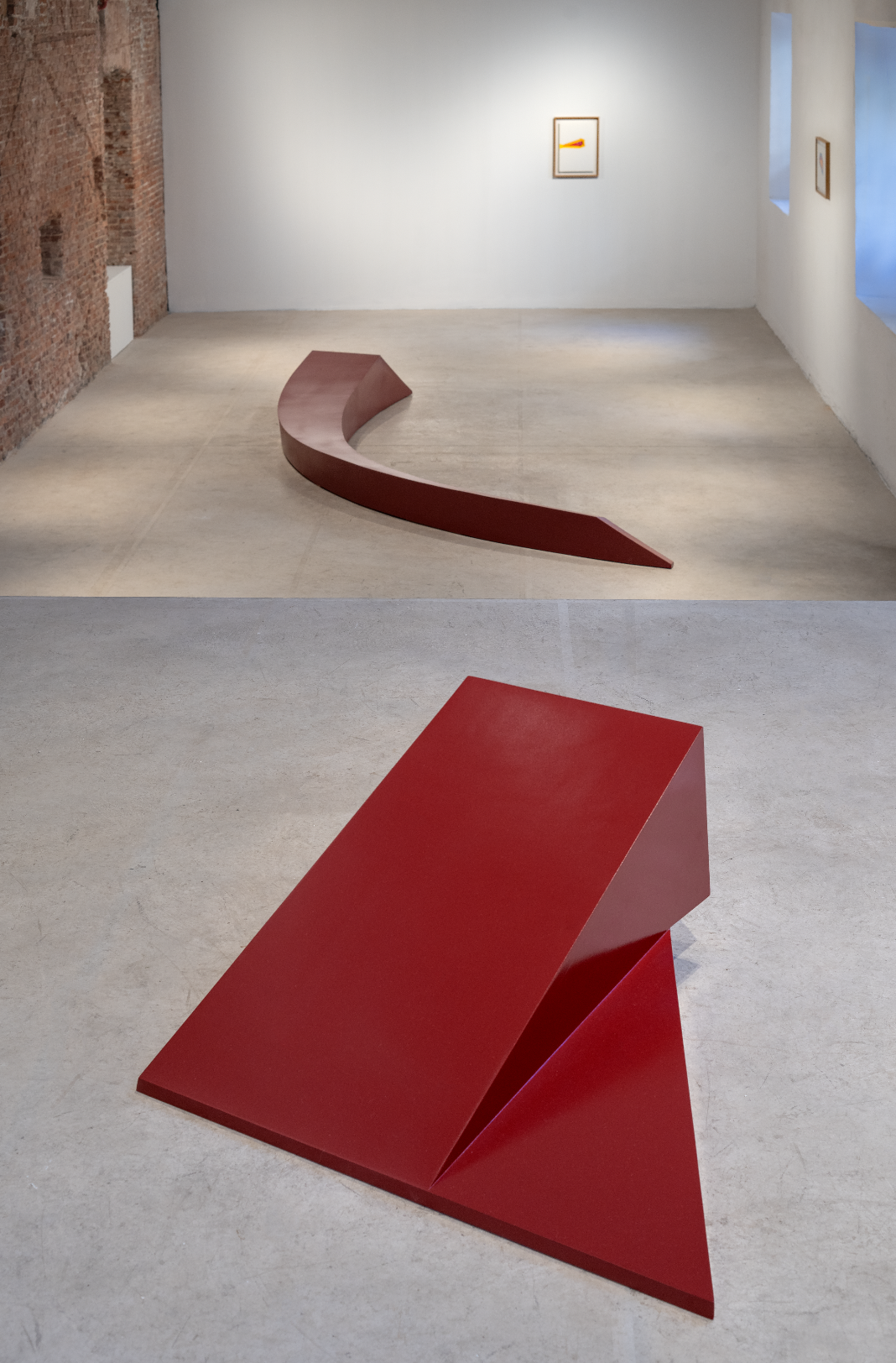 14.09 – 03.11.23
Exhibition opening: September 14th
Koo Jeong A is constantly in orbit and lives and works everywhere. Koo is a multidisciplinary artist, who has developed a large and dynamic body of work since the early 1990s. In their practice, architectural elements, texts, drawings, paintings, sculptures, animations, sound, film, installation, words, and scents play a significant role. With these diverse elements Koo creates poetic, immersive, yet minimal interventions and installations. At Albarrán Bourdais Koo has made several new works, works that clearly shows Koo's interest in both mathematical issues and astronomical topics. The title of the exhibition itself an + bn = cn is a piece of math, so even before we have encountered the actual works Koo hints at what is at stake.
The main work is a huge tubular slope, a "halo", which relates to the German mathematician August Ferdinand Möbius (1790-1868). Möbius worked with geometry, theoretical astronomy, and coined the mathematical object Möbius strip, Möbius band, or Möbius loop in 1858. The Möbius strip is basically a ring, circular shape with non-orientable surface, made of a half-twisted strip. Koo's version of the Möbius strip has an extra twist – since Koo has cut away pieces at its intersections and materialized these cuts as enlarged sculptures. These sculptural elements are shown both indoor (as red lacquered wood in a scale ½) or outdoor (as Moon Grey Stone for Solo Houses) use and can be experienced as a gigantic puzzle. Koo's new half-twisted strip represents partly entanglement, connectedness, and at the same time fragmentedness and independency – the elements dependency of each other are interactive. Koo shares Möbius's interest for astronomy and is constantly referring to fluidity, voids, space, lightness, weightlessly, and posthuman beings in the work. It tempting to describe the outcuts as moonlets – like Saturn has its moonlets Dione, Enceladus, Epimetheus, Prometheus, Mimas, Rhea, Janus, Tethys, and Titan – since these new sculptures are constantly orbiting around each other. Inside and outside.
The out cuts have multiple functions and can be used as sculptures for seating or lying down, ramps for skating or simply minimal abstract objects. The new large outdoor work relates to many previous works by Koo. Besides the larger sculptural element Koo is presenting a sculpture/skate park maquette GALACTIC CENTER (2021), a set of paintings from the series SS GAKCHAL #1-8 (2023), and the two films VAMOUSSS (2018), and GRAVA (2018). The new, poetic series of star paintings SS GAKCHAL #1-8 links to Koo's interest for gravity and astronomy, and continuities their exploration of space, world, and universe. On each canvas there are one or more stars painted with an unbearable lightness that makes the golden stars float as if they are in motion. Weightlessness is a returning theme that echoes throughout Koo's practice in works such as SS GAKCHAL #1-8, the phosphorescent pigments in Seven Stars (2020), GRAVA's non-gravity vacuum environment or the floating characters in works like CHAMNAWANA (true me & i) (2018) or VAMOUSSS's infinite, quiet void. Throughout the years, Koo has investigated and blurred the lines between their work and the space it occupies. The work adds new layers to any given space and Koo manages to merge small intimate experiences and large-scale immersive works. To Koo, art functions as a transformer that constantly incites the surprise of discovery, audience involvement, and otherness, extending towards an unstoppable state of dynamism that is always oscillating, trembling, and vibrating. Koo masters both small intimate experiences and large-scale impressive works, but their minimal gestures and conceptual approach is always elegant, engaging, multi-sensorial, esthetically pleasing, and most importantly it is thought provoking.