About
Beyond the White Cube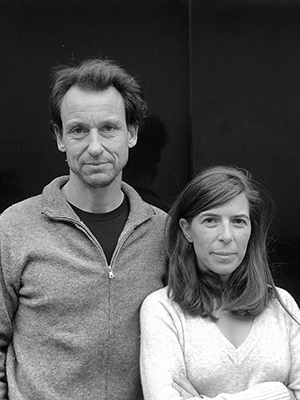 Pioneering and passionate, Christian Bourdais and Eva Albarran have been working with the key players in architecture and contemporary art for over fifteen years. In 2004, Eva Albarran and Christian Bourdais founded Eva Albarran & Co, now known to be one of the three biggest contemporary art production company in France. Eva Albarran & Co specializes in producing exhibitions and public commissions for new works of art such as Nuit Blanche, French pavilion for La Biennale di Venezia, Christian Boltanski's exhibitions amongst others.
Simultaneously in 2010, Eva and Christian developed the Solo Houses project, an on-going project of contemporary small resort-prototype conceived by a New Garde of international young architects. The Solo House project is set in the "Los Puertos de Beceite" natural park in the mountainous region of Matarrana, Spain, alongside in situ works of art, a landscape designed by Bas Smets and a cultural programme tour led by Hans Ulrich Obrist, to provide visitors with a complete cultural immersion. In 2015, their love interest for art and architecture continued by opening a gallery in Paris, which is devoted to exhibit solo architects' artworks at opportune times.
The latest project to have risen is Galeria Solo, which opened its doors in 2018. In Galeria Solo, they show leading contemporary artists such as Christian Boltanski, Bertrand Lavier, Ivan Argote, Dominique Gonzales Foerster, Angelika Markul. With the opening of the Galeria Solo in Madrid, Eva's hometown, Eva and Christian want to offer these artists a gateway to the Spanish and Latin American markets, the vitality of which is indisputable. Not only operating as an exhibit space, Galeria Solo is eager to further their art production experience to display its artworks in unexpected places through collaboration and the use of the Solo House site as a place of artistic expression and open-air exhibitions.